What is
General Surgery?
General surgery covers a variety of procedures on different areas of the body, but often includes the abdomen.
TYPES OF GENERAL SURGERIES
Appendix or Gallbladder Removal
Hemorrhoid Surgery
Hernia Repair
Colorectal (colon and/or rectal) Surgery
Weight Loss Surgery (known as bariatric surgery, such as gastric bypass)
Studies have shown up to 105 pills1 are prescribed after bariatric surgery and nearly 200 pills are prescribed after gastric sleeve surgery.2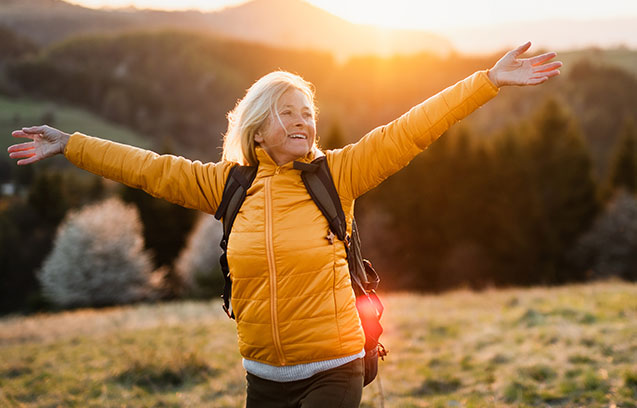 Multimodal approaches, including long-acting non-opioid options like EXPAREL, have shown to have a positive impact on patient outcomes following general surgery.3-5 For example, patients given EXPAREL*
Reported less pain
Required fewer opioids†
Had fewer complications after surgery
Were ready to leave the hospital sooner
 * Based on clinical studies of surgeries using EXPAREL as an alternative to standard of care.†The clinical benefit of the decrease in opioid consumption was not demonstrated in the pivotal trials.
Other Pages to Check out
EXPAREL®Indication EXPAREL® (bupivacaine liposome injectable suspension) is indicated to produce postsurgical local analgesia via infiltration in patients aged 6 years and older and regional analgesia in adults via an interscalene brachial plexus nerve block, sciatic nerve block in the popliteal fossa, and an adductor canal block. Safety and efficacy have not been established in other nerve blocks.
Important Safety InformationEXPAREL should not be used in obstetrical paracervical block anesthesia. In studies in adults where EXPAREL was injected into a wound, the most common side effects were nausea, constipation, and vomiting. In studies in adults where EXPAREL was injected near a nerve, the most common side effects were nausea, fever, headache, and constipation. In the study where EXPAREL was given to children, the most common side effects were nausea, vomiting, constipation, low blood pressure, low number of red blood cells, muscle twitching, blurred vision, itching, and rapid heartbeat. EXPAREL can cause a temporary loss of feeling and/or loss of muscle movement. How much and how long the loss of feeling and/or muscle movement depends on where and how much of EXPAREL was injected and may last for up to 5 days. EXPAREL is not recommended to be used in patients younger than 6 years old for injection into the wound, for patients younger than 18 years old for injection near a nerve, and/or in pregnant women. Tell your health care provider if you or your child has liver disease, since this may affect how the active ingredient (bupivacaine) in EXPAREL is eliminated from the body.
EXPAREL should not be injected into the spine, joints, or veins. The active ingredient in EXPAREL can affect the nervous system and the cardiovascular system; may cause an allergic reaction; may cause damage if injected into the joints; and can cause a rare blood disorder.
Full Prescribing Information is available at www.EXPAREL.com/patient.
For more information, please visit www.EXPAREL.com/patient or call 1-855-793-9727. You are encouraged to report negative side effects of prescription drugs to the FDA. Visit www.fda.gov/medwatch or call 1-800-FDA-1088.
References
1 Hill MV, Stucke RS, Billmeier SE, Kelly JL, Barth RJ Jr. Guideline for discharge opioid prescriptions after inpatient general surgical procedures. J Am Coll Surg. 2017. doi:10.1016/j.jamcollsurg.2017.10.012. [Epub ahead of print]
2 Pacira Pharmaceuticals, Inc. Exposing a Silent Gateway to Persistent Opioid Use: A Choices Matter Status Report. October 2018. [Analysis in the report was based on research conducted by the QuintilesIMS Institute.]
3 Keller DS, Pedraza R, Tahilramani RN, Flores-Gonzalez JR, Ibarra S, Haas EM. Impact of long-acting local anesthesia on clinical and financial outcomes in laparoscopic colorectal surgery. Am J Surg. 2017;214(1):53-58.
4 Majumder A, Fayezizadeh M, Neupane R, Elliott HL, Novitsky YW. Benefits of multimodal enhanced recovery pathway in patients undergoing open ventral hernia repair. J Am Coll Surg. 2016;222(6):1106-1115.
5 Fayezizadeh M, Petro CC, Rosen MJ, Novitsky YW. Enhanced recovery after surgery pathway for abdominal wall reconstruction: pilot study and preliminary outcomes. Plast Reconstr Surg. 2014;134(4 suppl 2):151S-159S.