What is
Orthopedic Surgery?
Orthopedic surgery includes many types of procedures on the skeletal system, including joints, bones, and ligaments.
TYPES OF ORTHOPEDIC SURGERIES
Foot and Ankle Fracture Repair
Spine Surgery (such as spinal fusion)
Knee, Hip, or Shoulder Replacement
Sports-Related Surgery (such as ACL or rotator cuff)
Despite ongoing efforts to end America's opioid crisis, patients continue to receive large amounts of opioids to treat pain after surgery.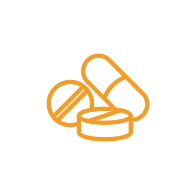 In fact, patients received between 100-130 opioid pills to help manage pain from common orthopedic procedures such as rotator cuff repair, hip replacement and knee replacement.1
There are effective non-opioid options that can be used to manage pain after surgery, including iovera° and EXPAREL
Patients receiving iovera° for total knee replacement surgery
Requested 45% fewer opioid prescriptions at 12 weeks after knee replacement surgery
Experienced less pain 2 weeks after replacement surgery
Were ready to leave the hospital sooner
In orthopedic surgeries, patients who received non-opioid pain management options like EXPAREL2*
Reported less pain
Required fewer opioids† – In fact, 10% of patients who received EXPAREL for total knee replacement surgery did not take opioids‡
Were more discharge ready within 12 hours
*Based on clinical studies of surgeries using EXPAREL as an alternative to standard of care.
†The clinical benefit of the decrease in opioid consumption was not demonstrated in the pivotal trials.
‡Based on clinical studies of total knee replacement surgery with and without EXPAREL.
Hear from real-life doctors and patients
on how non-opioid options helped achieve an enhanced recovery experience.
Other Pages to Check out
ioveraºIndication ioveraº applies freezing cold to peripheral nerve tissue to block and/or relieve pain for up to 90 days. It should not be used to treat central nervous system tissue.
Important Safety Information
Do not receive treatment with ioveraº if you experience hypersensitivity to cold or have open and/or infected wounds near the treatment site.
You may experience bruising, swelling, inflammation and/or redness, local pain and/or tenderness, and altered feeling at the site of application.
In treatment area(s), you may experience damage to the skin, skin darkening or lightening, and dimples in the skin.
You may experience a temporary loss of your ability to use your muscles normally outside of the treatment area.
Talk to your doctor before receiving treatment with ioveraº.
For full Indication and Important Safety Information, please see: www.iovera.com/risks
EXPAREL®Indication EXPAREL® (bupivacaine liposome injectable suspension) is indicated to produce postsurgical local analgesia via infiltration in patients aged 6 years and older and regional analgesia in adults via an interscalene brachial plexus nerve block, sciatic nerve block in the popliteal fossa, and an adductor canal block. Safety and efficacy have not been established in other nerve blocks.
Important Safety InformationEXPAREL should not be used in obstetrical paracervical block anesthesia. In studies in adults where EXPAREL was injected into a wound, the most common side effects were nausea, constipation, and vomiting. In studies in adults where EXPAREL was injected near a nerve, the most common side effects were nausea, fever, headache, and constipation. In the study where EXPAREL was given to children, the most common side effects were nausea, vomiting, constipation, low blood pressure, low number of red blood cells, muscle twitching, blurred vision, itching, and rapid heartbeat. EXPAREL can cause a temporary loss of feeling and/or loss of muscle movement. How much and how long the loss of feeling and/or muscle movement depends on where and how much of EXPAREL was injected and may last for up to 5 days. EXPAREL is not recommended to be used in patients younger than 6 years old for injection into the wound, for patients younger than 18 years old for injection near a nerve, and/or in pregnant women. Tell your health care provider if you or your child has liver disease, since this may affect how the active ingredient (bupivacaine) in EXPAREL is eliminated from the body.
EXPAREL should not be injected into the spine, joints, or veins. The active ingredient in EXPAREL can affect the nervous system and the cardiovascular system; may cause an allergic reaction; may cause damage if injected into the joints; and can cause a rare blood disorder.
Full Prescribing Information is available at www.EXPAREL.com/patient.
For more information, please visit www.EXPAREL.com/patient or call 1-855-793-9727. You are encouraged to report negative side effects of prescription drugs to the FDA. Visit www.fda.gov/medwatch or call 1-800-FDA-1088.
References
1 Pacira Pharmaceuticals, Inc. Exposing a Silent Gateway to Persistent Opioid Use: A Choices Matter Status Report. October 2018. [Analysis in the report was based on research conducted by the QuintilesIMS Institute.]
2 Mont MA, Beaver WB, Dysart SH, Barrington JW, Del Gaizo DJ. Local infiltration analgesia with liposomal bupivacaine improves pain scores and reduces opioid use after total knee arthroplasty: results of a randomized controlled trial. J Arthroplasty. 2018;33(1):90-96.